Our Management Team
Sheila Robertson B.Sc. (Hons.) Agric., CA - Director
Sheila qualified as a Chartered Accountant in 1994.
Initially she moved to the Borders as a farm estate manager, previously working with Farmdata software provider and FCS, a co-operative providing financial control services to members. She founded Gall Robertson in 2001.
Sheila has built the firm on a strong reputation from her services to a wide portfolio of clients, including healthcare, manufacturing, construction and farming which are her particular areas of expertise.
Sheila believes the most challenging and rewarding aspect of her work is the opportunity to work closely with people, to get a good understanding of their businesses and their goals, and then to provide them with advice and support which will help them to achieve those goals.
Pamela Baillie CA - Director
Pamela is a qualified Chartered Accountant who trained in Edinburgh with Scott Oswald, who at the time were the 6th largest CA firm in Scotland.
Following her time in practice Pamela joined AWG formerly Morrison Homes before moving to Royal Bank of Scotland and then returning to practice by joining Gall Robertson.
With a broad financial experience from practice, industry and exposure to her own family's businesses Pamela enjoys using this experience to help businesses grow.
Pamela grew up in the Scottish Borders and following her years in Edinburgh returned to set up home with her family in St Boswells.
Richard Barwick - Client Services Manager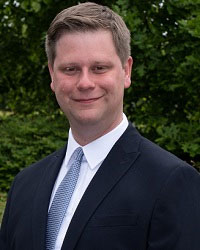 Richard undertook a BA honours degree in Business Studies with Finance in Edinburgh before joining Gall Robertson in 2010.
Having had experience of working within all parts of the firm Richard was appointed as Client Services Manager in November 2019 and is responsible for managing our book-keeping and payroll team. He also undertakes software setup and training alongside offering virtual finance office services to a number of clients.
Originally from the Scottish Borders Richard has a particular interest and experience in agriculture derived from his experience being part of his own family's farming business. He has experience of working with clients from rural estates and property businesses to retail and manufacturing and enjoys working with clients to ensure that they are receiving a high quality of information necessary to help them with monitoring their business performance.